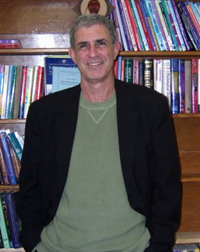 Dr. Neukrug was born and raised in New York City and obtained his B.A. in psychology from SUNY Binghamton, his M.S. in counseling from Miami University of Ohio, and his doctorate in counselor education from the University of Cincinnati.
After teaching and directing a graduate program in counseling at Notre Dame College in New Hampshire, Dr. Neukrug accepted a position at Old Dominion University, in Norfolk, Virginia where he currently is a Professor of Counseling, Chair of the Department of Counseling and Human Services, and an Endowed Chair of Counseling in the Darden College of Education and Professional Studies. He has received numerous awards and accolades over the years, including twice being the recipient of the prestigious President's Award from the National Organization of Human Services and being named a Fellow by the American Counseling Association.
Dr. Neukrug has worked as a counselor at a crisis center, an outpatient therapist at a mental health center, an associate school psychologist, a school counselor, and as a private practice psychologist and licensed professional counselor. He has held a variety of positions in professional associations in counseling and human services and has published dozens of articles, book chapters, and related publications. Dr. Neukrug has also developed several helping and counseling videos, an interactive and animated website entitled Great Therapists of the Twentieth Century, a survey to assess one's theoretical orientation toward counseling, and more. Some of these materials can be found on this site and on his open-access website: www.odu.edu/~eneukrug.
Dr. Neukrug is well known for the multiple editions of his 12 books, most of which can be found on this website. They include: (1) The Dictionary of Counseling and Human Services, (2) Skills and Techniques for Human Service Professionals (2nd ed.), (3) Counseling Theory and Practice (3rd ed.), (4) The World of the Counselor (6th. ed.), (5) Experiencing the World of the Counselor: A Workbook for Counselor Educators and Students (4th ed.), (4) Theory, Practice and Trends in Human Services: An Introduction to An Emerging Profession (6th ed.), (7) Essentials of Testing and Assessment for Counselors, Social Workers, and Psychologists (3rd ed., enhanced version), (8) A Brief Orientation to Counseling: Professional Identity, History, and Standards (3rd ed.), (9) Skills and Tools for Today's Counselors and Psychotherapists, (10) Counseling and Helping Skills: Critical Techniques for Becoming a Counselor, (11) The SAGE Encyclopedia of Theory in Counseling and Psychotherapy, and (12) Contemporary Theories of Counseling. He is now working on an Introduction to Clinical Mental Health Counseling text. Dr. Neukrug has two children, Hannah and Emma.